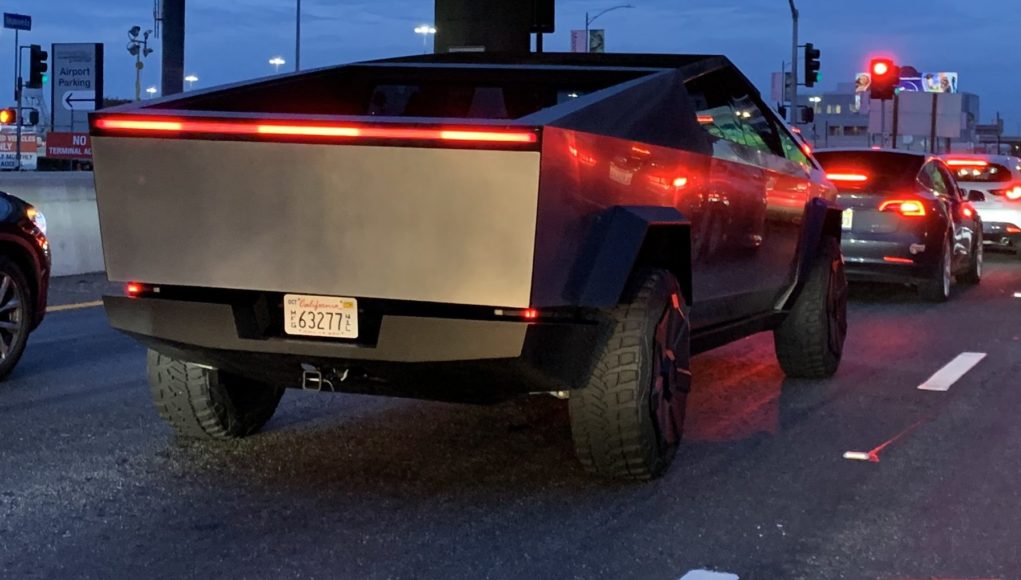 It may be an eye-catcher, it may already be a financial success for Tesla, and it may have aroused the admiration of auto freaks and science fiction fanatics alike, TESLAs new Cybertruck is already a success.
And it has already received more than 300,000 preorders.
Fact sheet:
The Tesla Cybertruck is an all-electric battery-powered light commercial vehicle in development by Tesla, Inc.
Three models have been announced, with range estimates of 250–500 miles and an estimated 0–60 mph time of <2.9–6.5 seconds, depending on the model
And it is precisely the aesthetic in the style of the science fiction film Blade Runner that seems to delight the audience, including Syd Mead, the artistic director of Blade Runner. He told Business Insider that Elon Musk's latest toy was "stylistically stunning".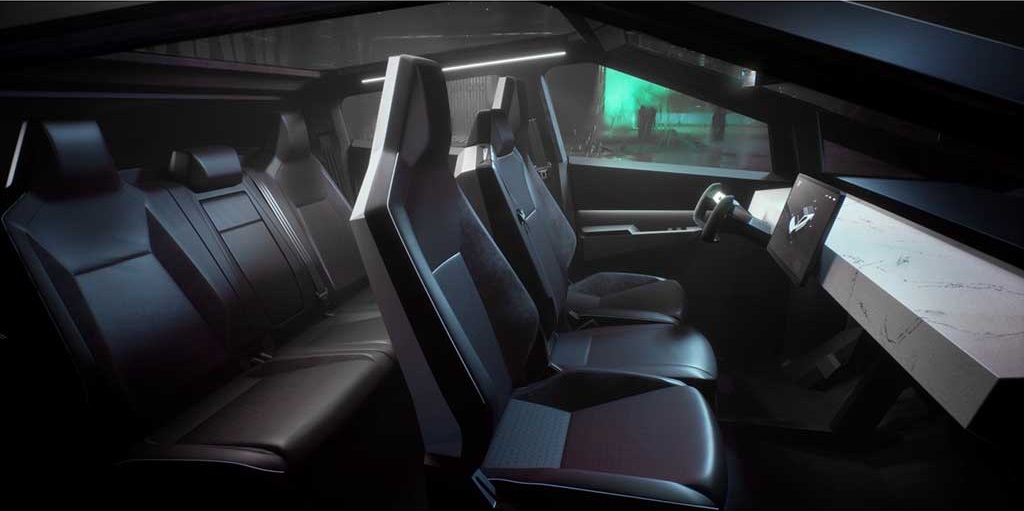 Some people think it looks brutal, aggressive and rugged like some kind of electric, dystopian Matrix bro-dozer. Others think it looks like something that Ikea might offer as its first flat-pack vehicle.
Even Lego made fun of it.
The evolution of the truck is here. Guaranteed shatterproof ? pic.twitter.com/RocTEkzzwI

— LEGO (@LEGO_Group) November 27, 2019
EXOSKELETON
TESLA's Cybertruck is built with an exterior shell made for ultimate durability and passenger protection. Starting with a nearly impenetrable exoskeleton, every component is designed for superior strength and endurance, from Ultra-Hard 30X Cold-Rolled stainless-steel structural skin to Tesla armor glass.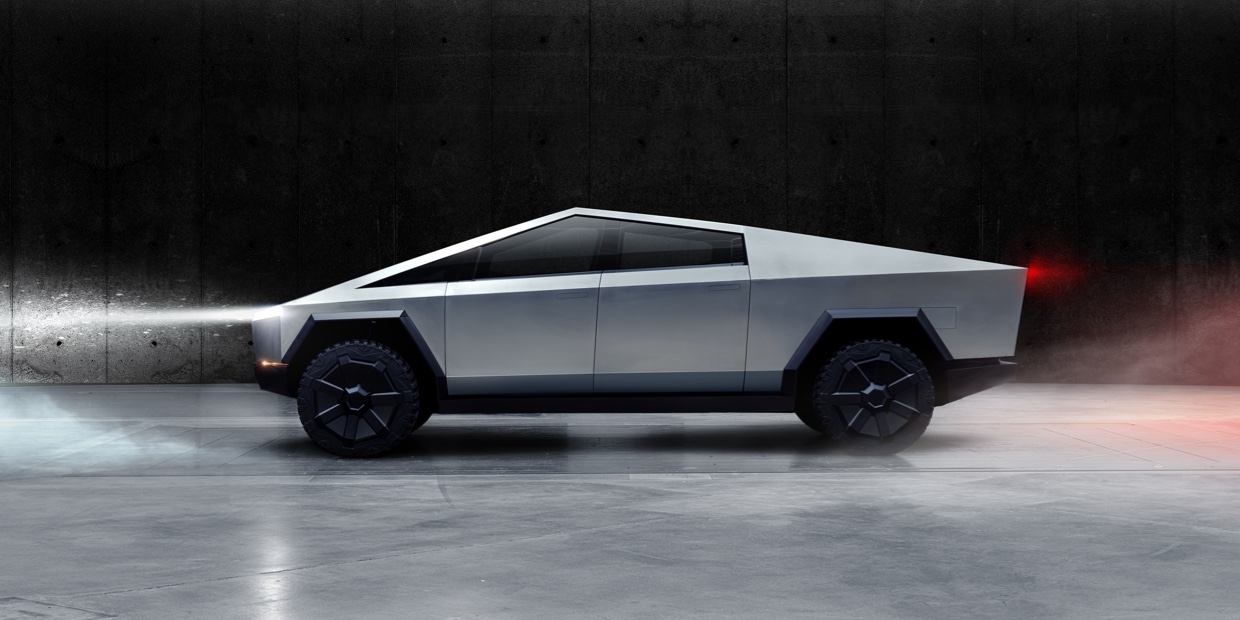 ARMOR GLASS
Ultra-strong glass and polymer-layered composite can absorb and redirect impact force for improved performance and damage tolerance.
VERSATILE UTILITY
With up to 3,500 pounds of payload capacity and adjustable air suspension, Cybertruck is the most powerful tool we have ever built, engineered with 100 cubic feet of exterior, lockable storage — including a magic tonneau cover that is strong enough to stand on.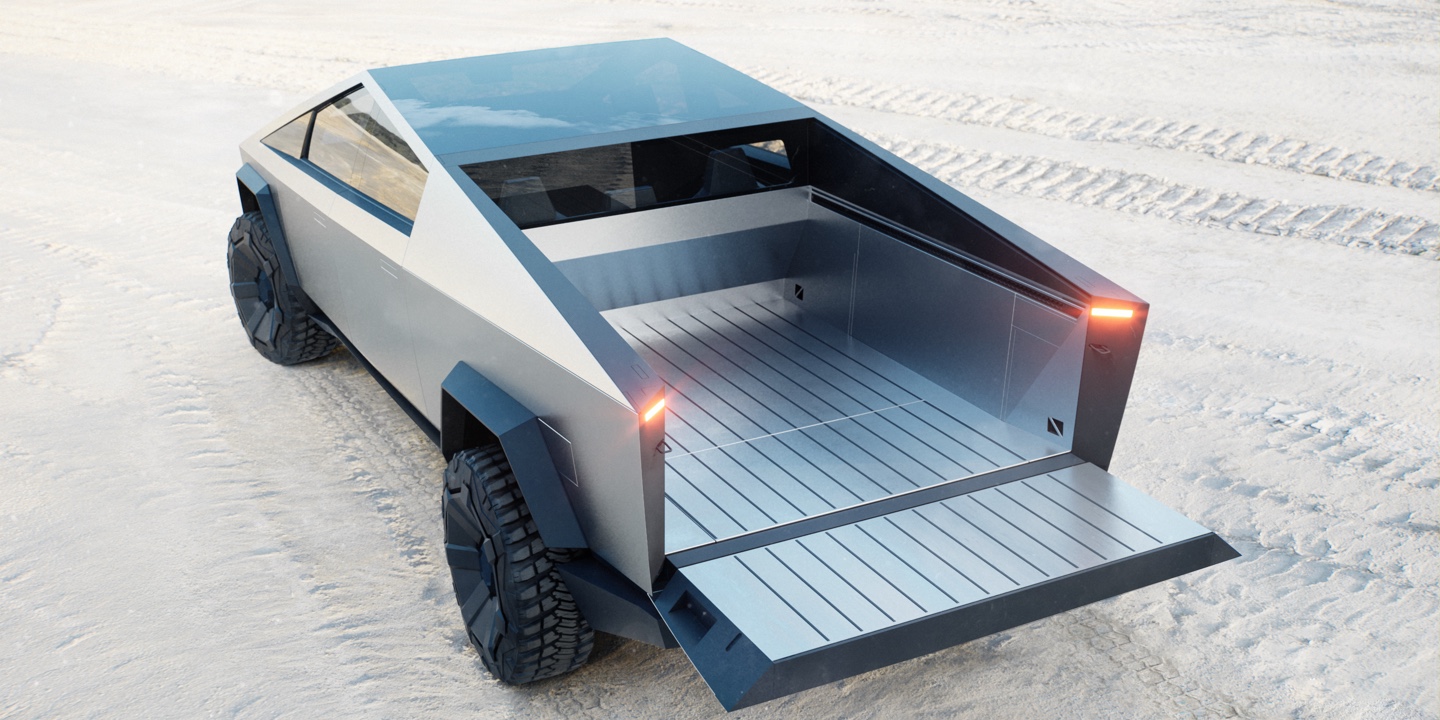 VAULT-LIKE STORAGE
Space for your toolbox, tire and Cyberquad, with room to spare. Utilize 100 cubic feet of exterior, lockable storage — including the under-bed, frunk and sail pillars.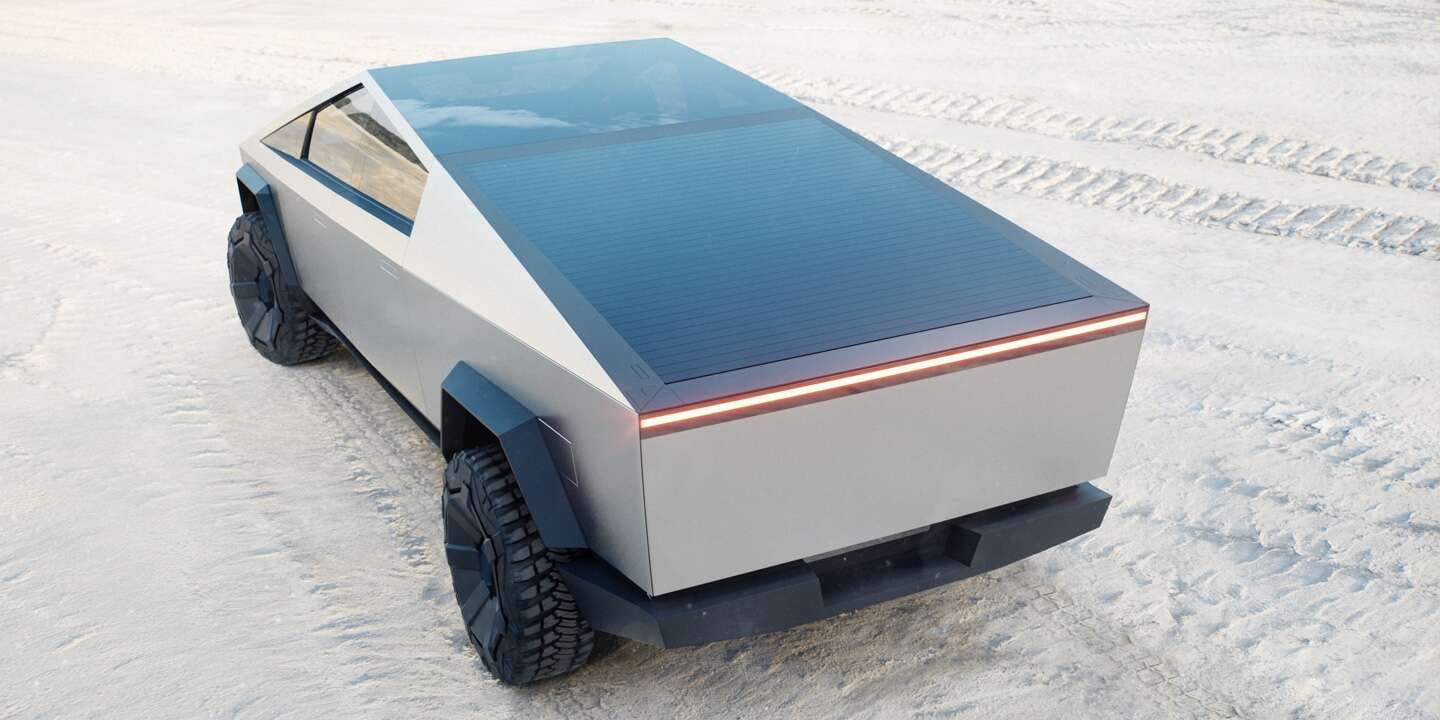 RUGGED STRENGTH
With the ability to pull near infinite mass and a towing capability of over 14,000 pounds, Cybertruck can perform in almost any extreme situation with ease.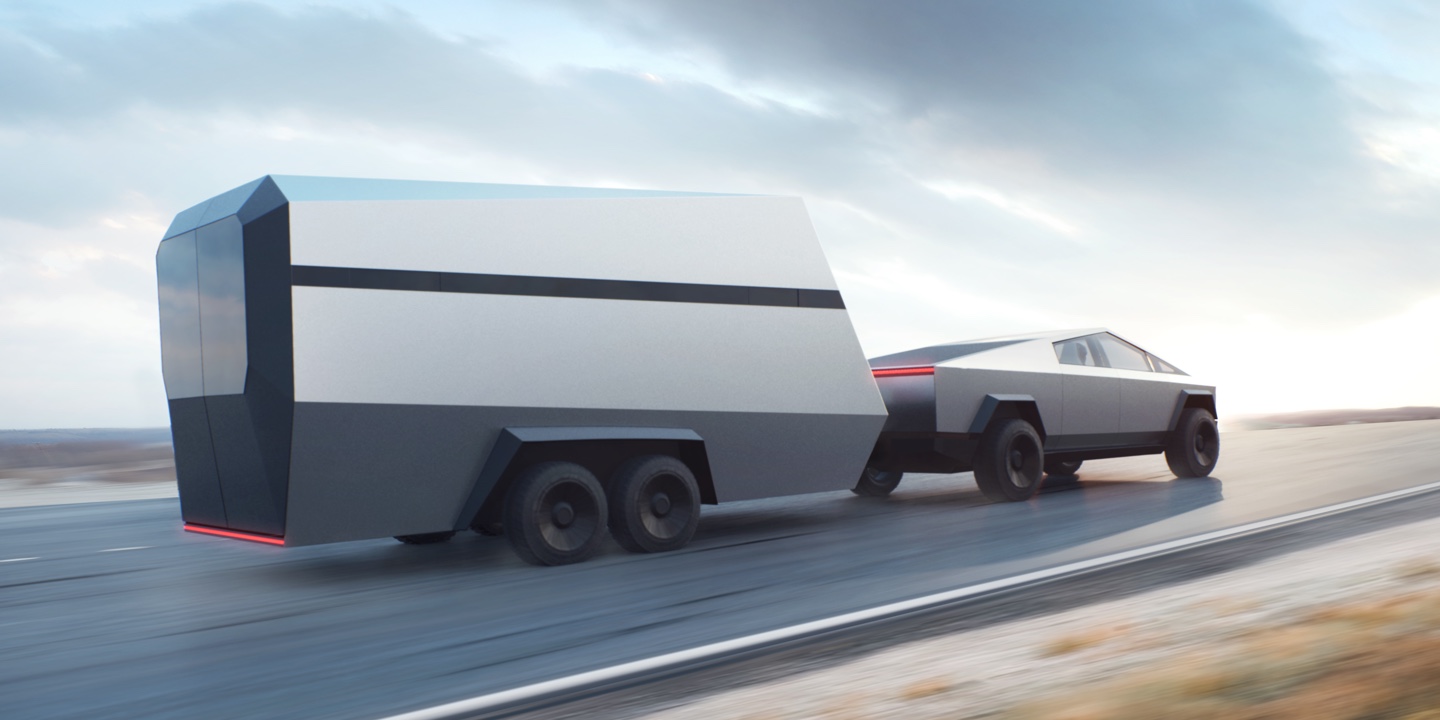 ADAPTIVE AIR SUSPENSION
Raise and lower suspension four inches in either direction for easy access to Cybertruck or the vault, while self-leveling capabilities adapt to any occasion and assist with every job.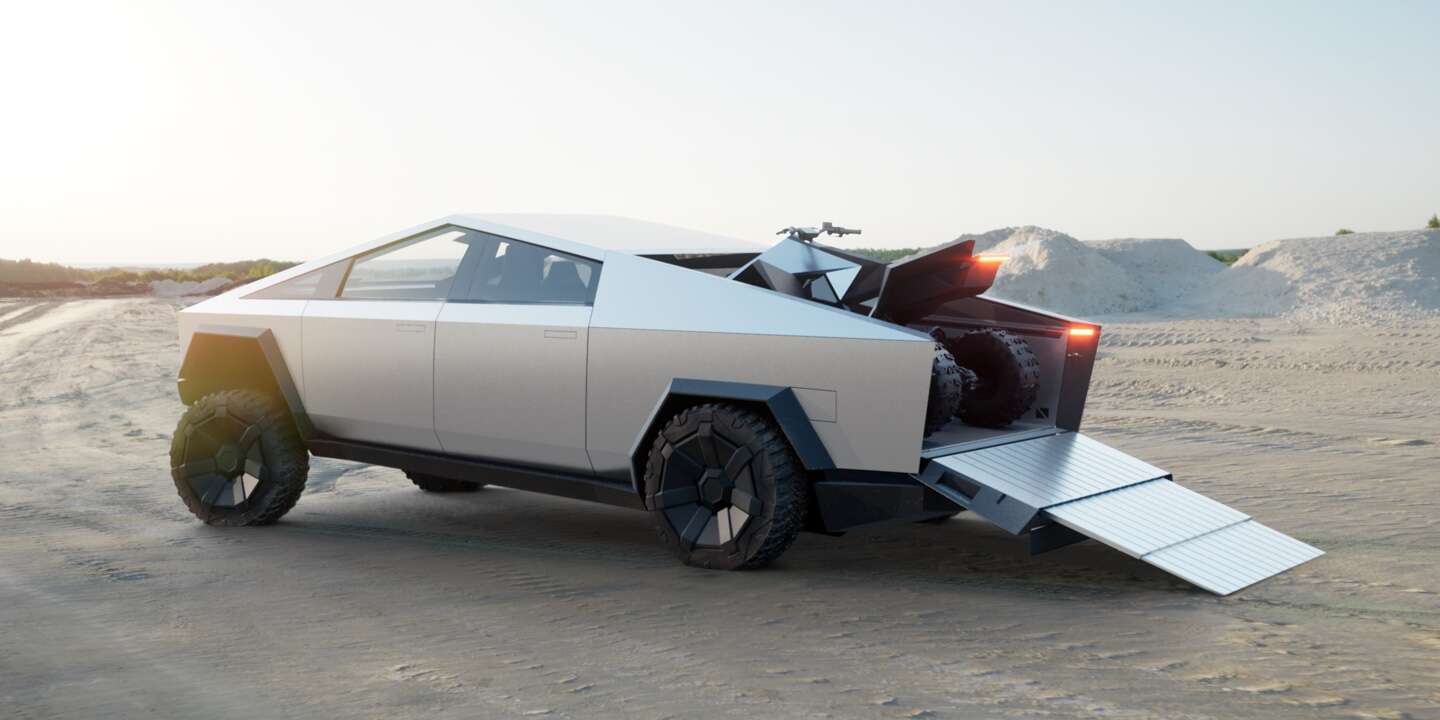 FLEXIBLE INTERIOR
Seat six comfortably with additional storage under the second-row seats. Complete with an advanced 17" touchscreen with an all-new customized user interface.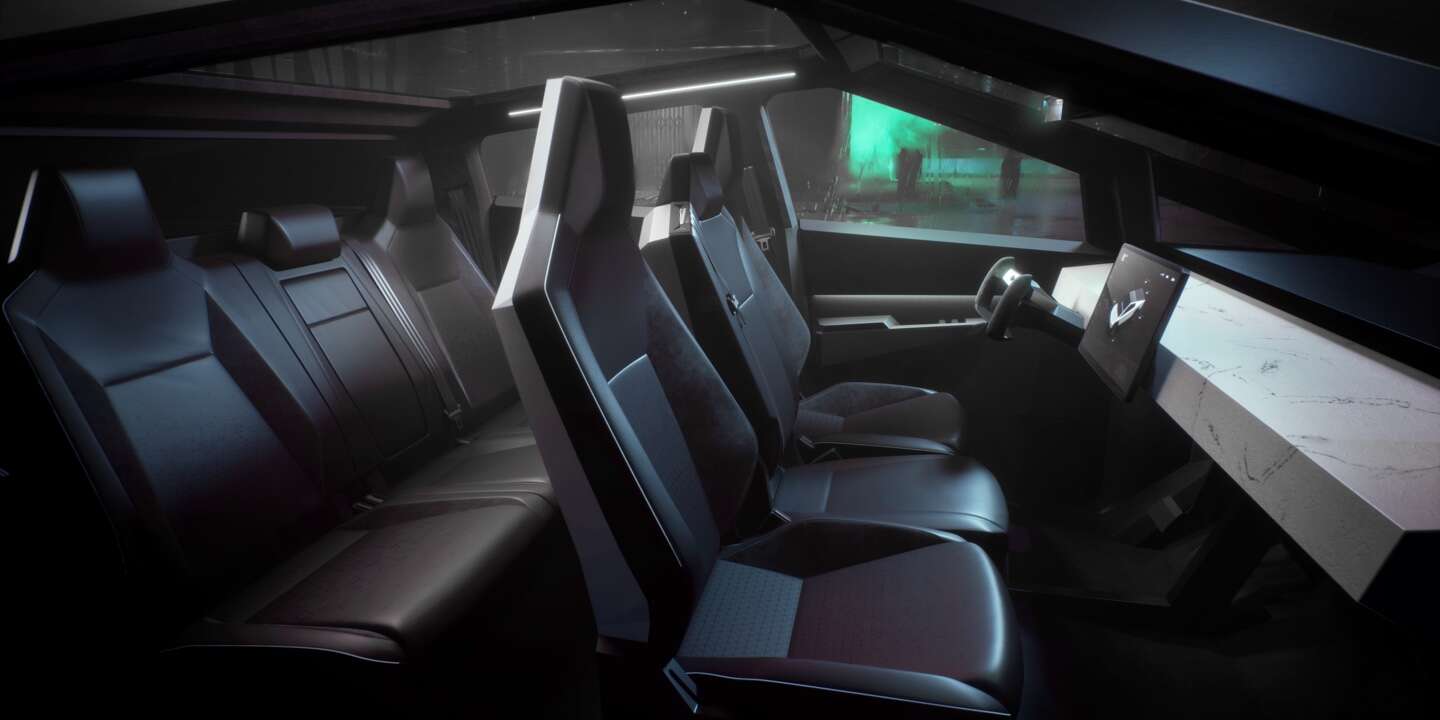 AWESOME ADAPTABILITY
From rugged to refined, Cybertruck is completely adaptable for your needs. Prepare for every experience with a versatile utilitarian design — including on-board power and compressed air.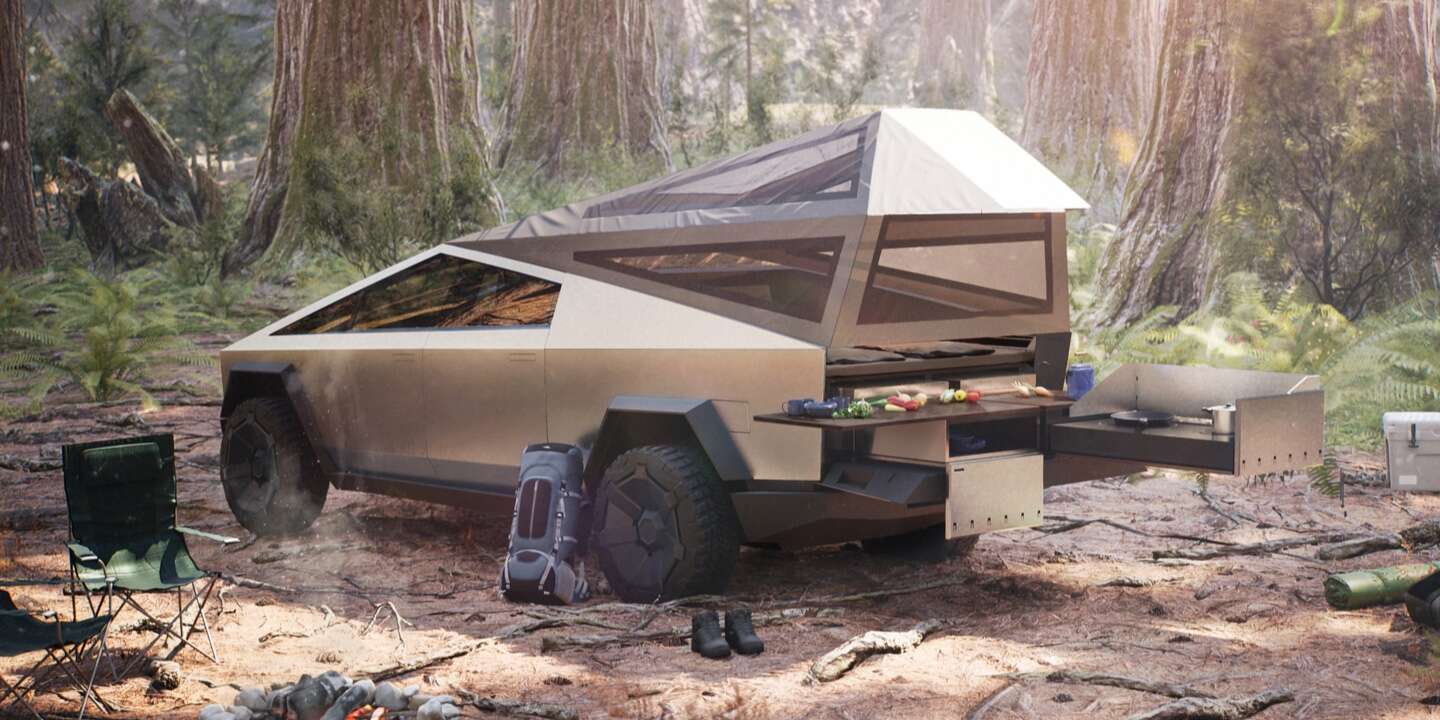 Pre-orders for the Cybertruck approached 250,000 within a week. Such an explosion of interest with no advertising, and an arguably disastrous grand opening event, is probably unprecedented.
On a global scale, it's clear that electric vehicles — known colloquially as EVs —have reached a new level of public acceptance. As of 2018, more than five million EVs were sold around the world. Canadians have been somewhat slower at adopting this technology, with all-electric vehicles representing 1.2 per cent of sales in 2018, or approximately 46,000 units. That said, Canadian sales of EVs grew 165 per cent year-over-year in 2018.
With the Cybertruck, Tesla has integrated several of its technologies into one offering. The truck features the same stainless steel alloy being used at Musk's other company, SpaceX. And it has lithium ion batteries, software and hardware for self-driving and a solar roof option to help boost the Cybertruck's range.
The efficiency of most gasoline engines is between 17 and 21 per cent. For EVs, the conversion of electrical energy into power to drive the wheels is 59 to 62 per cent. This gives EVs a clear performance advantage. The cost of operating EVs — including fuel and maintenance — ranges between 65 per cent to 77 per cent less across Canada than it costs to drive and maintain gasoline-fuelled vehicles.
Due to its weight and size, Tesla's Cybertruck is likely to be somewhat less efficient than the electric passenger cars currently available. However, when compared to other non-electric trucks, the inherent efficiency advantage of electric motors and the aerodynamics of the Cybertruck are substantially better.
Electric vehicles growing more popular
EVs are rapidly becoming a core part of our transportation future. They offer the potential to significantly reduce carbon emissions.
Even in oil-friendly Alberta, where the grid is powered mostly by fossil fuels, the case is being made that EVs offer both environmental and economic advantages. They're an important tool for reducing air pollution, for example, which costs the Canadian economy billions of dollars every year.
The Union of Concerned Scientists issued a report in November 2015 that concluded:
"Based on where EVs are being sold in the United States today, the average EV produces global warming emissions equal to a gasoline vehicle with a 68 mpg (miles per gallon) fuel economy rating."
That's about 3.4 litres per 100 kilometres in Canada. And in several northwestern states in the U.S., that equivalency is 94 mpg, or about 2.5 litres per 100 kilometres. This means that even the best gasoline- or diesel-powered vehicles would have to double or triple their fuel efficiency to come close to EVs.
In the same report, a life cycle analysis that included both the operation as well as the manufacturing of vehicles shows that a full-size EV has approximately half the environmental footprint of a full-size, gasoline-fuelled car.
Vehicle-to-grid (V2G) technology is also being developed around the world. V2G allows EVs to use chargers bidirectionally to turn them into mobile storage solutions — meaning EVs could help balance electricity supply and demand by making the vehicle's battery system part of the overall grid infrastructure. Vehicles could be used to store energy during periods of over-supply and provide top-ups to the grid during peak demand hours.
With its massive battery pack, Tesla's Cybertruck is particularly suited for V2G use. The vehicle will also come with a 120 volt/240 volt AC power outlet that may be able to power homes during blackouts or brownouts. This is something currently done with other EVs using what are known as aftermarket inverter kits. Nissan has been working on similar technology in Japan with its Leaf vehicle.