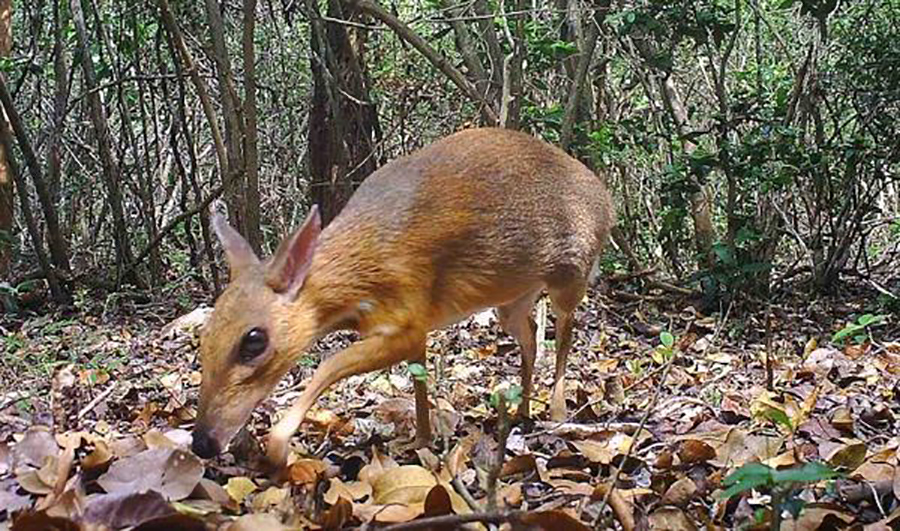 A tiny, mouse-like species of deer, around the size of a rabbit, has been spotted in the Vietnamese wilderness after nearly three decades of absence. The "silver-backed chevrotain" was last seen in 1990 and was thought to be a "lost species."
On the top 25 most wanted lost species list by Global Wildlife Conservation's (GWC), the silver-backed chevrotain, also known as the "Vietnamese mouse deer" is the first mammal to be rediscovered. As Good News Network reports, GWC made their discovery in south Vietnam, recording video footage of the wild critter, with over a thousand photos to accompany it.
"We had no idea what to expect, so I was surprised and overjoyed when we checked the camera traps and saw photographs of a mouse deer with silver flanks," said GWC's associate conservation scientist and expedition team leader, An Nguyen.
"For so long, this species has seemingly only existed as part of our imagination. Discovering that it is, indeed, still out there, is the first step in ensuring we don't lose it again, and we're moving quickly now to figure out how best to protect it."
The first sighting of the mouse deer was documented in 1910 during a Russian expedition to Vietnam. Little else has been told of the species since, however, the mammal has been a long-time priority of conservationists.
After hearing from local villagers and forest rangers, the researchers set out on an expedition, laying camera traps in the areas where locals said they may have sighted the mouse deer. Over the course of five months, they eventually took 275 photos. Later, the team set up more cameras and got an additional 1,881 images of the mouse deer.
"The rediscovery of the silver-backed chevrotain provides a big hope for the conservation of biodiversity, especially threatened species, in Vietnam," said Hoang Minh Duc, head of the Southern Institute of Ecology's Department of Zoology. "This also encourages us, together with relevant and international partners, to devote time and effort to further investigate and conserve Vietnam's biodiversity heritage."
Currently, there are 10 known species of chevrotains in the world, with most of them located in Asia. Despite their names, the solitary mammal is technically neither a deer nor a mouse. Rather, the chevrotain is the world's teeniest ungulate—a hoofed mammal. Typically, they weigh just 5 kg or 11 pounds.
Now that the team has rediscovered the mammal, threats to its survival will be determined:
"As part of the first-ever comprehensive survey on the species, the team began camera trap surveys in October in two additional areas. They will use all of the information that they gather to develop a conservation action plan that strengthens enforcement and protection of the species across its range, building on the increased enforcement already put in place at the site of rediscovery."
Barney Long, GWC's senior director of species conservation, continued:
"But the work is only beginning with the rediscovery and initial protection measures that have been put in place—now we need to identify not just a few individuals on camera traps, but one or two sites with sizable populations so that we can actually protect and restore the species."