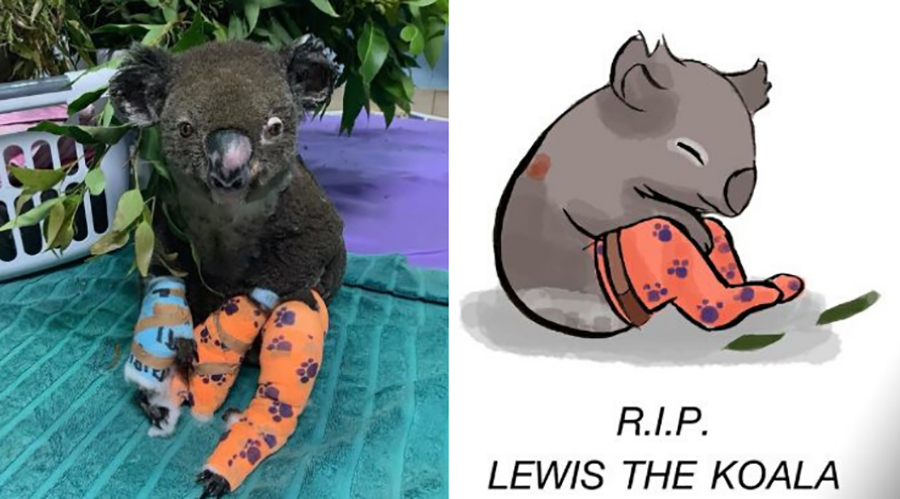 Lewis the koala who drew worldwide attention to the Australian bushfires and koala plight, has died.
The little marsupial, dubbed Ellenborough Lewis, was rescued from the devastating bushfires after being caught in brushfire, and rushed to Port Macquarie Koala Hospital. Dramatic footage filmed Toni Doherty, racing into the wildfires to rescue him, pouring water over his burns and wrapping him in blankets in efforts to save him.
I know there is a lot going on in the world but I'm gutted by the news that Lewis the koala – who was rescued from the Australian bush fires – has sadly died from the injuries he sustained ?? pic.twitter.com/CiNKOwQFVN

— Dan Walker (@mrdanwalker) November 26, 2019
Sadly, the koala hospital posted on Facebook that Lewis' wounds were not improving, and they had to make the gut-wrenching decision to euthanize him.
The hospital wrote:
"Today we made the decision to put Ellenborough Lewis to sleep. We placed him under general anesthesia this morning to assess his burns injuries and change the bandages.
We recently posted that 'burns injuries can get worse before they get better.' In Ellenborough Lewis's case, the burns did get worse, and unfortunately would not have gotten better.
The Koala Hospital's number one goal is animal welfare, so it was on those grounds that this decision was made."
The hospital had warned prior to the decision that the 14-year-old koala's "injuries and his pain are not treatable and tolerable."
Doherty spoke of her determination to rescue Lewis with 9 News:
"The poor koala, he was crying and screaming, because he was being burnt. He was burning underneath, on his little back legs… I've never heard a koala before. I didn't realise they could cry out. It was just so heart-rendering."
Lewis' death is one of thousands suspected to have occurred in the fires engulfing the states of New South Wales and Queensland over the last two months. In Port Macquarie, 350 koalas out of a population of 600 have perished.
Postdoctoral research fellow Christine Adams-Hosking told National Geographic the hopeless nature of the situation:
"They're such helpless little things.
A bird can fly, a kangaroo can hop very fast, but koalas are so slow. They basically just get stuck where they are."
Deborah Tabart, the chairman of the Australian Koala Foundation is calling on the Australian government to do more, saying the koala population is now "functionally extinct."
The Port Macquarie Koala Hospital and other experts disagreed, however, saying Tarbart's views are alarmist.
Scott Castle from the Port Macquarie Koala Hospital said it's a wait and see game that isn't over yet:
"Koalas are not functionally extinct across Australia. In the regions that have been fire-affected we won't know the full extent to changes in population dynamic until they are properly surveyed.
It's far too broad to say they are functionally extinct."
Despite any assessment, the Scott Morrison government has received national backlash at his inaction with climate change., dodging questions over the links to the bushfires and stating that now isn't the "right time" to "talk about climate change."
Opposition party leader Anthony Albanese however commented freely when asked on climate change:
"There is a need once we get through this period to really have a look at what the science is telling us and what the experts are telling us, which is that we have had a very prolonged drought that's been more intense than previous droughts and that this bushfire season," SBS reported.
"This is a very bad omen at this time of the year that we're having these devastating fires."