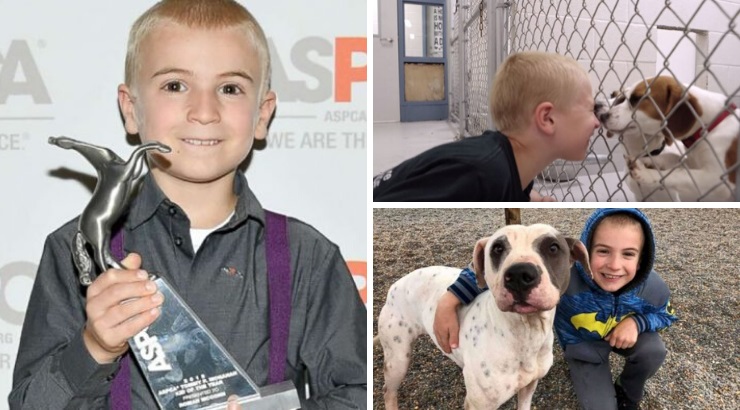 Project Freedom Ride was started by seven years old Roman McConn and his mother Sully to help pooches in and around Texas.
Roman has been tirelessly working to help senior and abandoned dogs get a second chance at life. As of 2018, this little wonder boy has saved more than 1200 dogs from shelters. Most of them were on the euthanasia list but Roman found them new homes.
Roman McConn has been dedicated to this cause since he was only 4 years old. With the help of his mother, he has been interacting with shelter animals. He plays with them, gets to know about their personality and then this mother-son duo makes videos about each loving doggo. Roman is known as somewhat of a dog whisperer, with his ability to communicate and interact with the dogs in various shelters. These unique videos detailing the traits of the shelter animals are posted on Facebook to reach the maximum audience.
Project Freedom Ride is dedicated to connecting shelter animals in Georgia and Texas with loving families from the Pacific Northwest. Roman McConn spends enough time to get to know each dog individually and then the videos are made. He firmly believes that no dog should be left in shelters, everyone deserves a home. With the help of this Project, Roman has not only saved dogs but also nearly 50 cats.
Project Freedom Ride helps the rescues in Texas with funding, networking and other processes of adoption. In the end, the animals get a loving home, often after barely escaping euthanasia. And the families who adopt them are more than happy to welcome those 4 furry paws!
Roman McConn's mother explains how his face lights up every time he gets to know another of his friends has found a home. He loves to interact with the dogs before making the videos. Roman wants them to find families who would be most suitable for the personality of the dogs. And he wishes that other kids like him would try to dedicate their time to help such shelter animals as well.
American Society for the Prevention of Cruelty to Animals (ASPCA) Kid of the Year is an honor given every year to a unique child who has made an impactful commitment to the welfare of animals. 2018 saw Roman McConn clinch the award for his unique efforts to rehome the shelter animals in his state. The 2019 award has been given to ten-year-old Brady Snakovsky for his efforts in raising funds to buy ballistic vests for K9 officers.
---
By Mayukh Saha | TruthTheory.com | Republished with permission