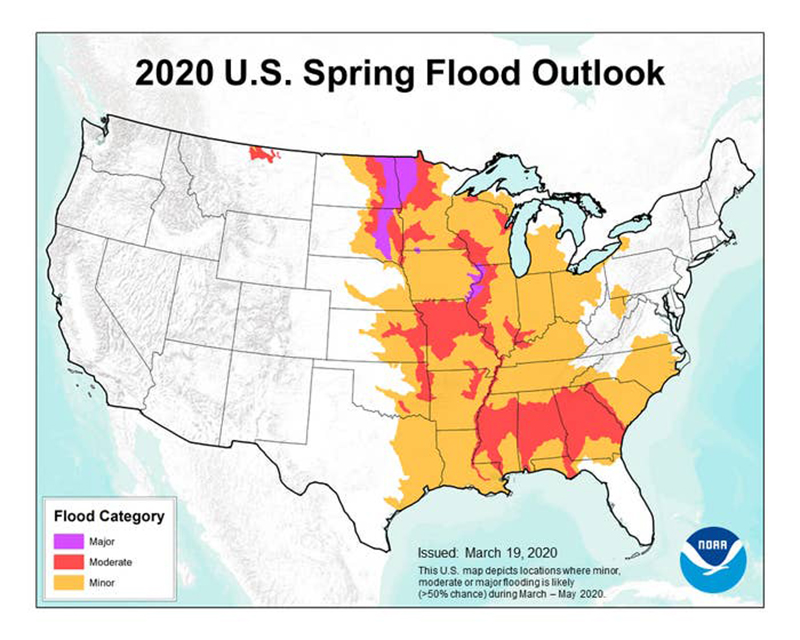 The health care capacity is being stretched thin across the United States as coronavirus infections surge. As numbers skyrocket past 46,000 confirmed cases, the Midwest is also bracing for another devastating blow: a possible flood season.
Sharon Broome, mayor of Baton Rouge, Louisiana, warned the Midwest to brace for potentially devastating weather. "The current situation with COVID-19 presents us a fight on two fronts: one front, we have the ongoing coronavirus pandemic, and on the other, what promises to be a very active spring 2020 flood season," she said on a press call this week.
According to a release by the National Oceanic and Atmospheric Administration this week, spring flood projections are predicted to reach severe flood proportions in 23 states. The greatest risk is the Mississippi River basin.
Multiple disasters are now being planned for simultaneously.
"We're good at responding when a disaster stares us in the face," Kris Johnson, deputy director at the Nature Conservancy, said. "But we're really not good at thinking about what can we do now to mitigate and dampen the potential impacts and increase our ability to be resilient to future impacts, whether they are public health–related or whether they are flooding."
According to Broome, federal agencies such as FEMA and other agencies like the Red Cross are coordinating with each other in the event of the predicted floods that are anticipated to last for weeks. However, the pandemic, says Broome, is complicating matters for response and recovery protocols.
Alice Hill, a climate fellow at the Council on Foreign Relations, and pandemic expert has concerns. "I think we can anticipate that as we move forward, we will see more burnout for our first responders, greater depletions of our supplies, and greater demand for more recovery money."
Sheltering displaced people is of incredible concern when trying to maintain social distancing procedures. Red Cross members are working now with local officials to source possible hotel and dorm rooms for those who might be affected by flooding.
According to Trevor Riggen, the senior vice president of disaster cycle services at the American Red Cross, anyone showing symptoms would be isolated while all people coming in for shelter would be screened for COVID-19.
"We'd have additional screening both for our volunteers and clients in the shelter three times a day to make sure if someone was asymptomatic when they came in and they presented while they were in the shelter, we could pick that up very quickly," Riggen said.
But for those already battling the current pandemic crisis, flood preparation is at the back of their minds..
"I feel like more than anything, we're just trying to keep our people in some state of calm as we daily put out these bleak circumstances, these bleak numbers," said mayor of Gretna, Louisiana Belinda Constant. "We're just praying every day that we don't end up in a state of anarchy."