(Aral Bereux) Taking photos and exploring landscapes is a common pastime for many, but for keen photographer and teacher Valtteri Mulkahainen, a daily stroll in Finland's countryside took a strange but delightful turn.
In June 2013, Valtteri took his camera out to the Finnish taiga near Martinselkonen, a town with stunning landscapes and wildlife. Valtteri had stopped in a shelter away from a forest clearing when he noticed three small cubs and a bear walking into the area. With his camera in hand, Valtteri experienced a unique moment that captured the wildlife in front of him.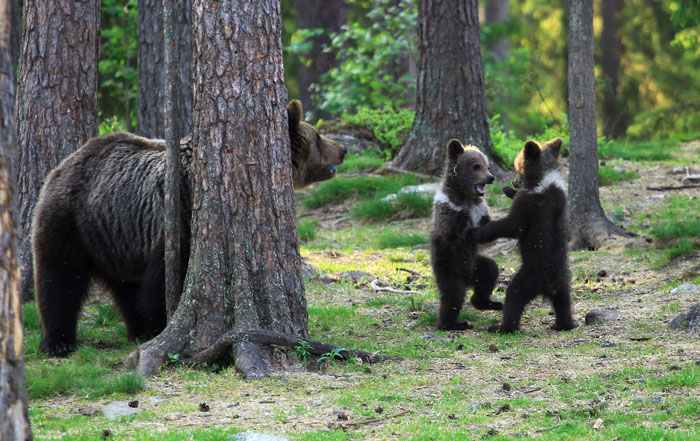 "The cubs behaved like little children," Valtteri said.
From Valtteri's shelter, the bears were unaware of his camera or presence and became playful. Valtteri stayed on for the evening and photographed them all night.
"They were playing, and even started a few friendly fights. I felt like I was on a playground in front of my house, where small children frolic around. That's how much they reminded me of little children. At one point, the three of them got up on their hind legs and started pushing each other. It was like they were dancing in a circle."
Finland is one of the top three European habitats for brown bears, with Sweden and Romania, and are regularly seen in the eastern parts of the country. According to a Reuters report, although the brown bear remains a protected species, Finland increased its hunting numbers in 2019.
The agriculture and forestry ministry permitted a hunting quota of 355 bears to stabilize their population growth and to help protect the reindeer populations in the country. Finland's brown bear population is now estimated to be around 2,130 bears.
Valtteri is a self-taught photographer with a background in biathletics and favours his Canon 5D Mark II to take wildlife images. The fact that Valtteri was able to get close enough to take the shots is incredible in itself. Bears almost always retreat the moment they detect a human presence in their area.