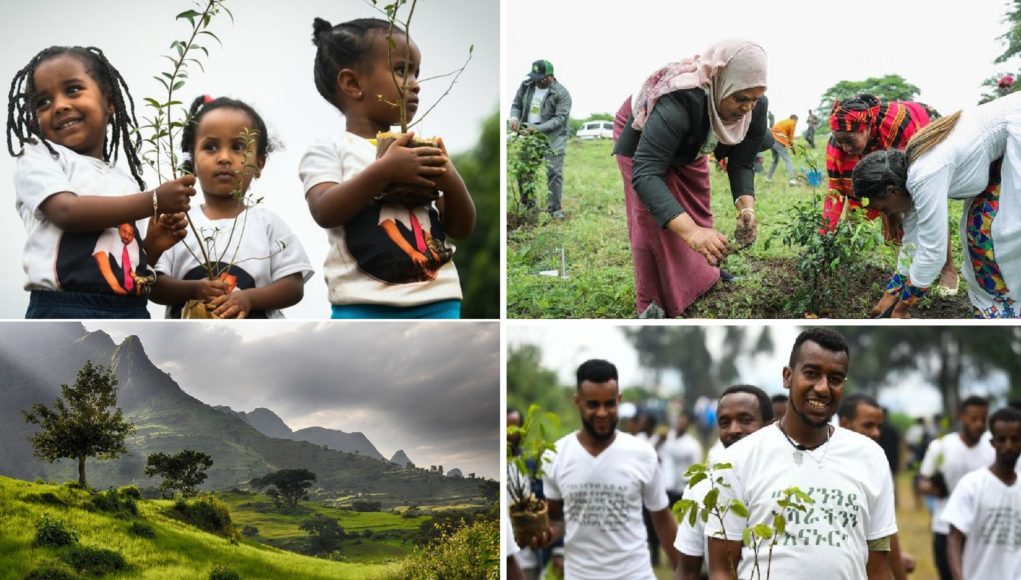 On July 29, Ethiopia set a new world record by planting over 353 million trees in just 12 hours. In 2017, India planted more than 66 million trees in half a day in a record-breaking environmental drive (In 2016, India set a world record by planting more than 50 million trees in one day).
As part of Ethiopian prime minister Abiy Ahmed's "Green Legacy Initiative" to plant four billion saplings during the rainy season (which ends in October) to tackle the effects of deforestation and climate change in the drought-prone country,  over 100,000,000 trees had been planted after a six-hour period. After the 12-hour period ended, Abiy Tweeted that Ethiopia not only met its "collective #GreenLegacy goal," but exceeded it. A total of 353,633,660 tree seedlings had been planted when their goal was to plant 200 million trees in one day.
BREAKING NEWS!!

ETHIOPIA PLANTED
353,633,660 TREE SEEDLINGS IN 12Hours#GreenLegacyEthiopia#PMOEthiopia pic.twitter.com/TewfqNzXMN

— Dr.-Ing. Getahun Mekuria (@DrGetahun) July 29, 2019
In recent years, Ethiopia has massively suffered from the effects of climate crisis including land degradation, soil erosion, deforestation, and recurrent droughts and flooding exacerbated by agriculture. Reports indicate that in 2017 alone, over 2 million animals died in the African country due to drought.
According to Farm Africa, an organization working on reforestation efforts in East Africa and helping farmers out of poverty in Ethiopia, less than 4% of the country's land is forested, compared to around 30% at the end of the 19th century.
A recent study estimates that 1 trillion new trees could pull almost 750 billion tons of carbon dioxide from the atmosphere—or about as much as humans have released in the last 25 years—over several decades.