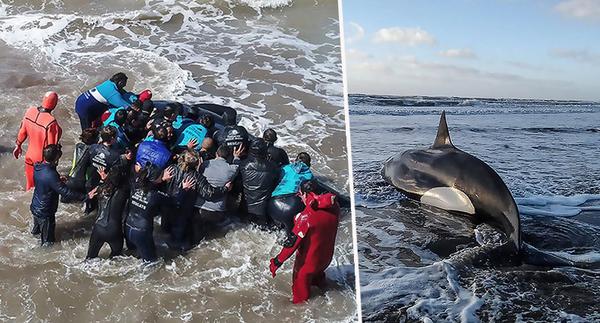 After an incredible 20-hour rescue effort, a stranded orca has been returned to the ocean; free to roam and play once again.
The four tonne killer whale had become stranded on a beach in Nueva Atlantis, Argentina, and rescue workers dedicated themselves to getting it safely back in the water.
This was an extensive rescue effort, with a team comprised of members from the Fundacion Mundo Marino, the Argentine Naval Prefecture and the Civil Defence.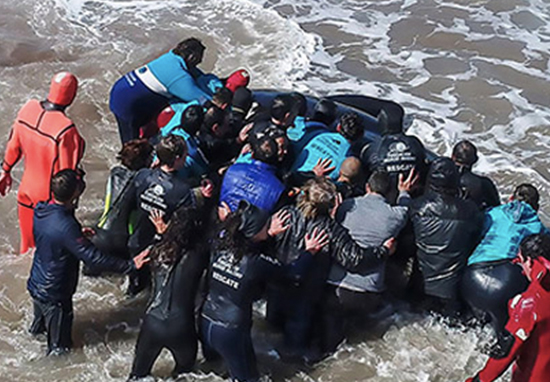 Taking place amid very cold temperatures, there were significant challenges during this rescue effort, not least because of the size and weight of this magnificent mammal.
The determined rescuers had to straighten the whale – which had been 'stranded sideways' – to stop the blowhole becoming submerged beneath the water.
They believed the whale's chances of survival to be small, and yet still strived to give it the best chance possible. With incredible skill, they managed to place a stretcher beneath the huge orca and guide it carefully back to the ocean.
Thankfully, the beautiful creature recovered, and was able to swim after being helped back into the water; much to the relief of the community.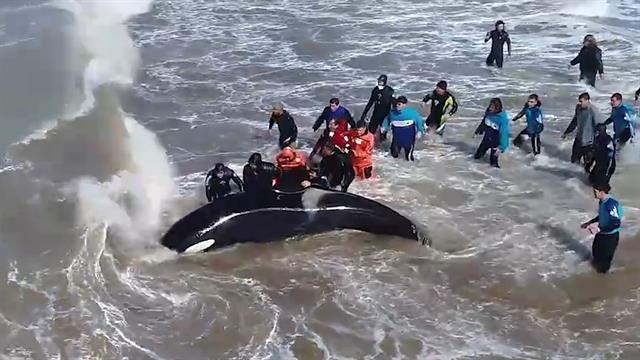 Writing on Facebook, Fundacion Mundo Marino said:
"As the orca was fully supported in the sand on one of its sides, the rescue team of the marine world foundation, accompanied by Argentine Naval Prefecture and civil defence, sought to straighten it out to prevent the blowhole from falling under water and triggering a drowning.
On the cold and windy night they tried for hours to it, but due to their large size and weight (Approximately 4 TONS) the task was impossible. However it served for the happy ending of the next day.
We highlight the great value and commitment of this team of people who gave everything!!"
According to Fundacion Mundo Marino, this operation was made possible because of the marine world team's efforts to improve marine animal rescue over the course of many years:
"[They have been] perfecting its techniques, training professionals and accumulating knowledge and experience in order to act against these situations, unfortunately, More and more common."
Orca returned to sea in 20-hour rescue in Argentina h. So much more beautiful to see these animals in the wild

— leila rezazad (@gilass) August 28, 2018
According to a Facebook post by Fundacion Mundo Marino, department head for wildlife at marine world, Florence Speciale, said:
"It's a mixture of sensations. The Picture was tremendous. She looked so weak and cramp that it seemed impossible to rescue her.
We saw it getting more complicated, but we were all very connected. We got the goal that I had to be able to come back. Being in the water with her and watching her face sea inside was something amazing. A dream."
Footage of the emotional moment has been shared on social media, with many people expressing admiration and gratitude to the rescue workers who refused to give up.
One person exclaimed:
"How cute!! How much love!! Congratulations and God bless professionals and people."
Another commented:
"What beautiful people… beautiful hearts!"
This story just shows what can be achieved when a group of people put their heart into something. Well done to this committed and caring team of humans!