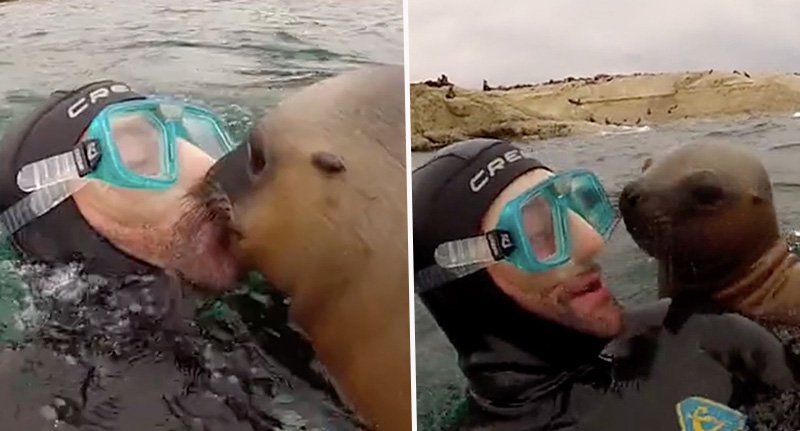 In 2003, the great pop band Busted wrote a song about their neighbour, called Peter, who'd built a time machine with a flux capacitor. True story.
In the song, Peter documented his recent excursions to different eras along the space/time continuum. He said 'I've been to the year 3000, not much has changed but they live underwater'.
Now if you ask me, if the entire human race lives underwater in less than a thousand years from now, that's a pretty major change, Peter. I'd love to know what else you've seen on your travels which makes humans going from above-ground creatures, to living underwater, seem like not that big of a deal.
That lyric has stayed with me for years. There's so much to it. Not least, for example, the question, if we did live underwater, would we still have regular pets like cats and dogs, or would various sea creatures be the new household pet?
If it's anything like this video, I'd be happy with the latter:
Criminally, Year 3000 only reached number two in the charts. Though it was one place better than previous single What I Go To School For, which reached number three, I still think Busted were robbed. Where's David Sneddon now, hey?
The song and the above video, however, have given us a glimpse into just what it could be like living underwater.
It looks like we'd probably have to wear some kind of breathing apparatus most of the time, but at least we'd get to play with seal pups like this. Just look at that kiss it plants on the snorkeler! I'd rather play with that seal pup than Matt Willis any day.
Of course, the type of animal you could have as a pet would probably depend on which body of water you lived under.
The footage was filmed off the coast of Puerto Madryn in Argentina. According to The Crazy Tourist, the town's coast is full of friendly sea life, with whales, dolphins, penguins and sea lions all in the area.
The site also says, while the seals and sea lions can be aggressive on land, they're friendly and docile in the water, playfully engaging with humans and getting rather intimate in some instances, as the above video proves.
In their smash hit song, Busted also say, in the year 3000, they'll have outsold Michael Jackson. And though someone has in fact now outsold Michael Jackson's Thriller as the best-selling album of all time, it unfortunately wasn't Busted.
It may be hard to believe, but it was actually The Eagles who knocked Jackson off the top spot with their album, Their Greatest Hits (1971-1975), which was first released in 1976.
According to the Recording Industry Association of America (RIAA), The Eagles' album hit sales and streams of 38 million this week, making it certified 38x platinum and moonwalking its way past Jackson's classic, which is currently only 33x platinum.
Busted's Year 3000, from the album Busted, has so far sold 465,000 copies, and is certified gold. The album, in the UK alone, has sold 1,195,110, making it 4x platinum.
They may not have outsold Jackson yet, but they've still got a few years!