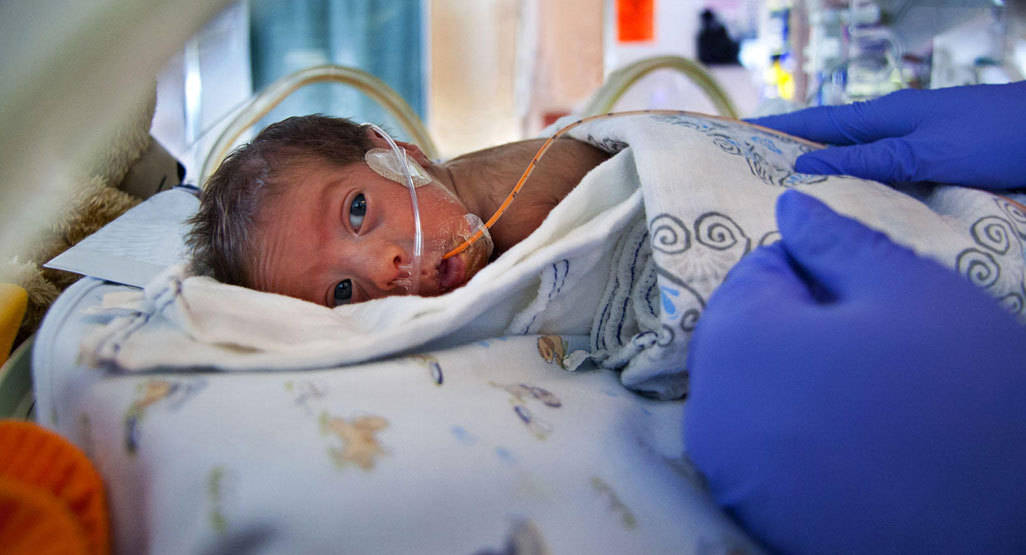 Nestlé has violated Indian law after sponsoring a clinical trial to observe and record the outcomes of substitutes for breast milk on infants.
The violation comes under the Infant Milk Substitutes (IMS) Act that stipulates that manufacturers are prohibited from sponsoring or funding medical research or financing any part of the Indian health care system.
The Multicentric Observational Study to Observe Growth in Preterm Hospitalized Infants' research trial was implemented in five major India hospitals. Bangalore's Cloud Nine Hospital and Manipal Hospitals, the Institute of Child Health in Kolkata, Sir Ganga Ram Hospital in New Delhi, and the Calcutta Medical Research Institute in Kolkata are all said to have taken part with the illegal funding.
The clinical trials documented the effects of milk substitutes on 75 premature babies in the above mentioned hospitals.
According to the Breastfeeding Promotion Network of India's (BPNI) central coordinator Dr Arun Grupta, Nestlé's conduct is in gross violation of the law.
"This is a gross and blatant violation of the IMS Act, and attracts the section 9.2, demanding strict action by the authorities.
"The hospital receiving such monetary or material Support need to be aware that violation of the IMS Act is a criminal offence; cognisable under IPC."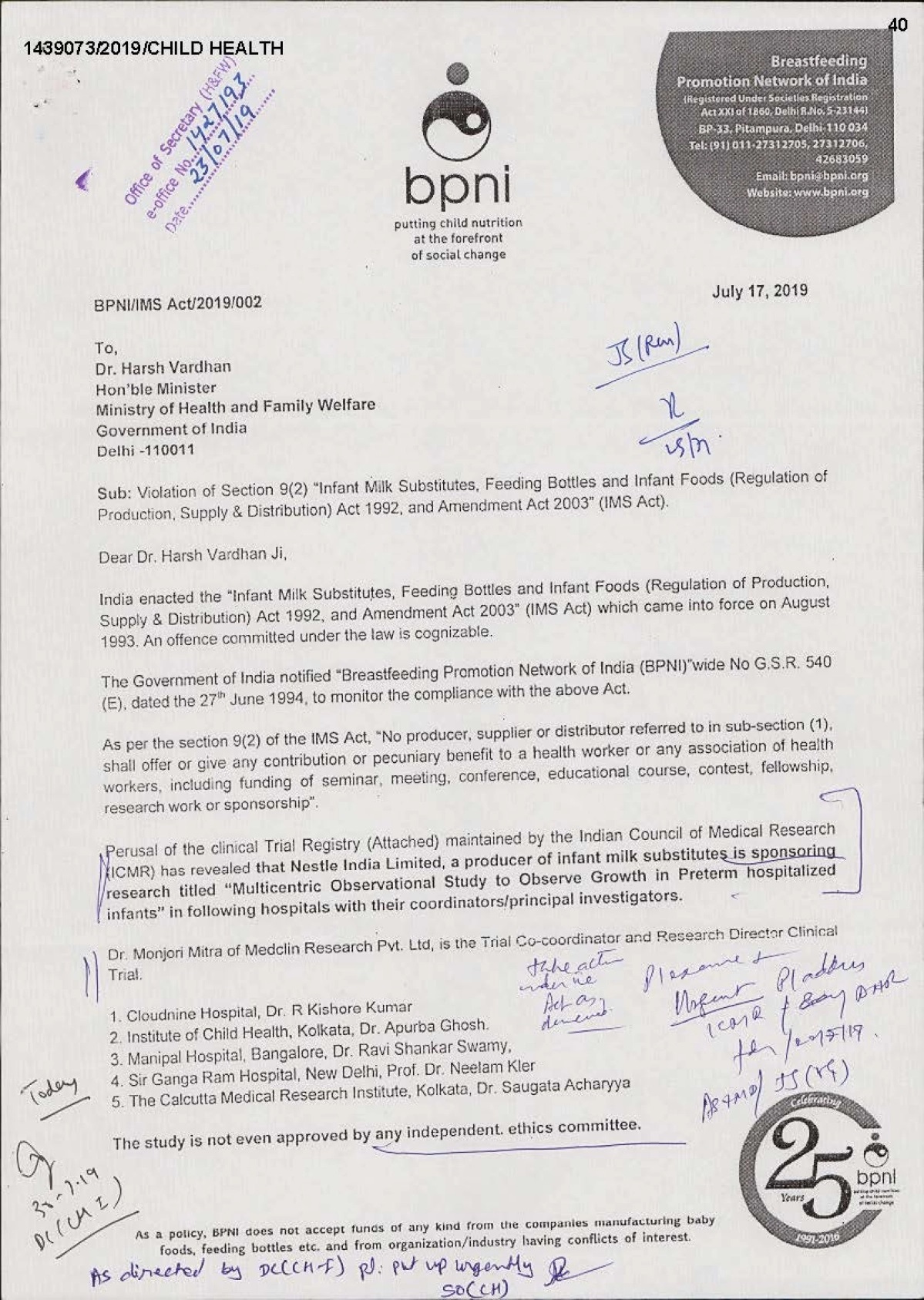 BPNI has contacted the Indian Ministry of Health and Family Welfare informing them of the violation. Since then, the health ministry has ordered an investigation into the complaint, as well as recommending that all future trials are screened for any future infringements of the IMS Act.
Nestlé has since denied that any violation occurred, and published their statement outlining the company's ethics and responsibility to India.
Dr Monjoni Mitra of Medclin Research is the trial co-ordinator and research director of the trial. The five hospitals which participated in the research — Cloudnine Hospital (Bengaluru), Institute of Child Health (Kolkata), Manipal Hospital (Bengaluru), Sir Ganga Ram Hospital (New Delhi) and Calcutta Medical Research Institute (Kolkata)— are private institutions. R Kishore Kumar, Apurba Ghosh, Ravi Shankar Swamy, Neelam Kher and Saugata Acharyya were the doctors involved in these respective hospitals for the trials.
"This is not the first time that Nestle has tried to enter the market. They don't follow protocols. They have been trying to bring in un-regulated baby food into the market. This research has not even been approved by an independent ethics committee. Nestle is violating the IMS Act. They should adhere to the law. We are talking about food for infants," observes Karpagam.
"When such trials are held, doctors get monetary benefits. They begin to promote powder food for babies even when it is not necessary. They keep telling the mother that the baby is not being fed well. There is no need for any other liquid or powder for a baby till six months," says Karpagam.
Unregulated clinical trials are a norm in India. "In a report by PricewaterhouseCoopers on emerging markets in India, it had stated that the country is a good ground for clinical trial," highlighted Karpagam.
According to a Supreme Court ruling, clinical trials can be approved in India only in three instances. If it is related to an unmet medical need of the country; In case of innovations vs existing therapy and on basis of the risk benefit analysis.
"Nestle's clinical trials don't fall under any of these categories. It is not a 'need'. Here, premature babies are being put at risk. The country spends crores to improve infant mortality rates and here babies are put at risk with this trial. Moreover, Nestle has only commercial interests on its mind," insists Nidhi.
ICMR History with clinical trials
Since 2007, ICMR was part of clinical trials for administration of anti-cervical cancer HPV vaccines to prevent cervical cancer in mong 24,000 girls in the tribal belts of Andhra Pradesh and Gujarat. In 2010, six tribal girls from Gujarat and Andhra Pradesh involved these trials died.
The vaccines, produced by Merck and GlaxoSmithKline, were given under an "observational study" conducted under the aegis of Path (Programme for Appropriate Technology in Health), an organisation funded by the Bill and Melinda Gates Foundation. These programmes were conducted in 2007 while the vaccines were approved later.
Under rules, a firm interested in trial is supposed to approach the Drug Controller with a protocol to get approvals, but in India there have been several evidences of weak monitoring.
The government had in 2010 stated that 1,725 persons have lost their lives to drug trials in four years from 2007 to 2010.
A Parliamentary committee report in 2010 found that ICMR had signed a memorandum of understanding to provide technical support to the project in 2006 even before the Drugs Controller General of India (DGCI) approved its use in the country, which actually happened in 2008. An ICMR official was implicated in this for favouring this project.