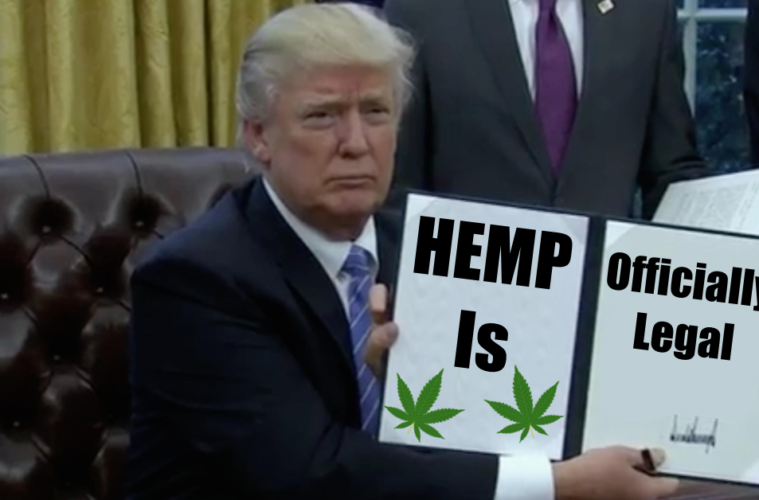 IN BRIEF
The Facts:With Donald Trump's signature on the 2018 Farm Bill, hemp is now legal in the United States once again.
Reflect On:Can we take wins like this and build upon them? Can we further be inspired by the changes that are happening in our world?
Hemp used to be legal once in the US, until it was controversially made illegal. But this changed today, President Donald Trump just signed the Farm Bill, legalizing industrial hemp in the United States once again.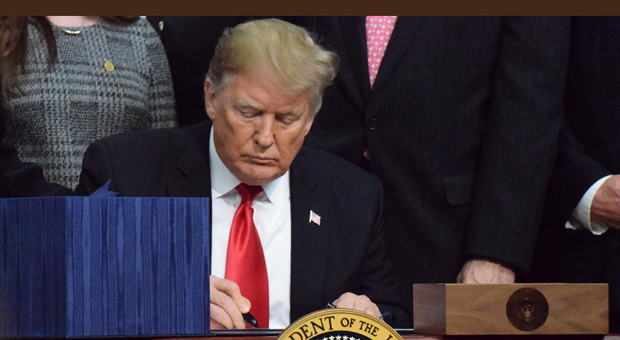 This new policy, voted on every 5 years or so, was highly anticipated after Congressional approval last week. The bid for hemp's recent legalization began when Senate Majority Leader, Mitch McConnell pushed for hemp in the 2018 Farm Bill. The goal was to reinvigorate the plant's farming opportunities from state pilot programs to a nationwide scale by removing hemp from the Controlled Substances Act and treating it like an agricultural product. After all, why would it be a controlled substance if it has no psychoactive properties?
When Trump signed the bill he did not make specific mention about hemp, but he called it his "great honour to sign the 2018 Farm Bill, a very special and important piece of legislation." He added, "It opens new markets for agriculture all over the world."
Although this new bill is being categorized as outright legalization for hemp, it's important to note that strict regulations still apply. Although hemp will no longer be in the jurisdiction of the Department of Justice, prospective growers will have to submit cultivation plans to the U.S. Department of Agriculture (USDA), either through the state government or the USDA itself. Similar to how hemp currently operates in Canada.
For proper distinction, Cannabis plants must contain less than 0.3 percent THC in order to be classified as hemp.
Another positive in this development is that the bill puts hemp under the Federal Crop Insurance Act, meaning that in the event a cultivator experiences crop loss, they will be entitled to insurance coverage in the same way that farmers for other legal agriculture products are. This illustrates how serious this crop is now being taken, which reminds me of when hemp was legal in the past and farmers were actually mandated to grow it as it was such a useful and healthy crop.
CBD
So what about CBD when it comes to the farm bill? Well, it's not legalized.
"It is true that section 12619 of the Farm Bill removes hemp-derived products from its Schedule I status under the Controlled Substances Act, but the legislation does not legalize CBD generally. As I have noted elsewhere on this blog CBD generally remains a Schedule I substance under federal law… The Farm Bill ensures that any cannabinoid—a set of chemical compounds found in the cannabis plant—that is derived from hemp will be legal, if and only if that hemp is produced in a manner consistent with the Farm Bill, associated federal regulations, association state regulations, and by a licensed grower. All other cannabinoids, produced in any other setting, remain a Schedule I substance under federal law and are thus illegal. (The one exception is pharmaceutical-grade CBD products that have been approved by FDA, which currently includes one drug: GW Pharmaceutical's Epidiolex.)"  – John Hudak of the Brookings Institute
Regardless of the current CBD restriction, hemp getting the nod for growth again is still a BIG plus.
"The significance of this law change should not be underemphasized," NORML Deputy Director Paul Armentano said in a press release. "This law marks the first change in the federal classification of the cannabis plant since it was initially classified as a schedule I controlled substance by Congress in 1970, and paves the way for the first federally-sanctioned commercial hemp grows since World War II."
The Takeaway
Even though things may be happening a bit slower than we might like at times, things are changing and they are moving in a more open and free direction. Lots of work is still to be done but we can take victories like this and build upon them within ourselves.