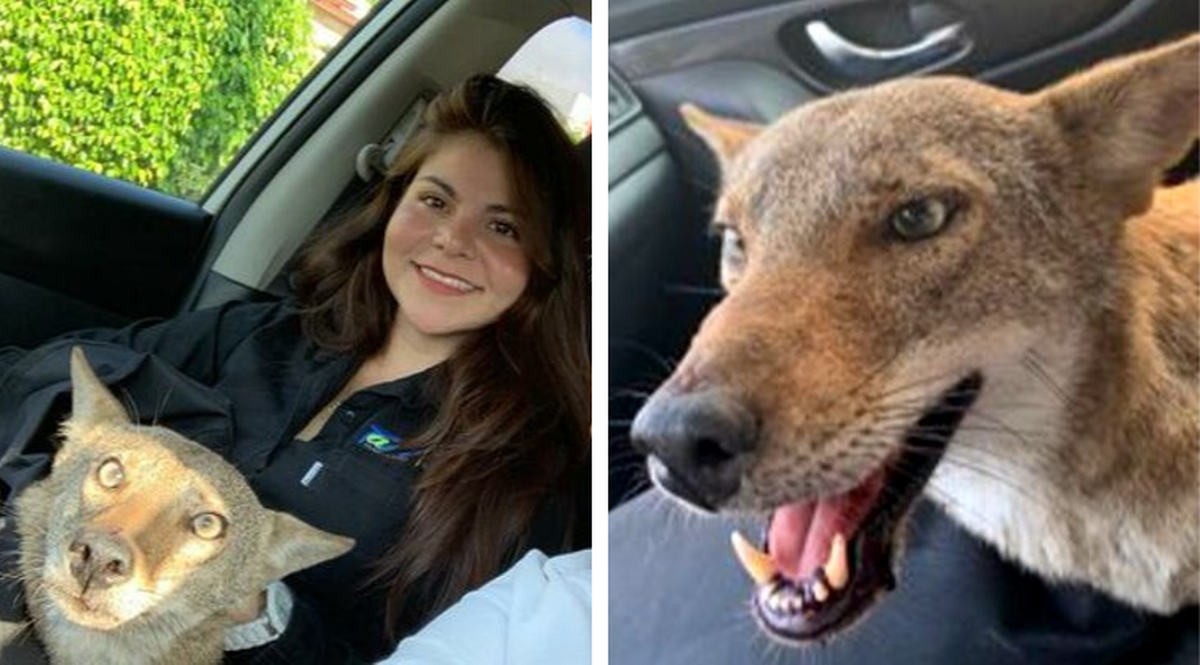 Andrea Athie, a young woman in the north-eastern Mexican state of Tamaulipas, who rescued and brought what she thought was an injured stray dog struggling on the roadside into her car was shocked to discover the docile animal was actually a wild coyote with injuries to its hind paws when she rushed the hapless creature to the veterinarian's clinic.
When vets told Athie that the stray animal was not a dog but a wild coyote, the young-Samaritan-turned-wildlife-savior couldn't believe it:
"When I rescued it, I thought it looked a bit weird but I had no idea it was a coyote. I was told it was dangerous, but I insisted it was a dog. The coyote was run over by a motorist who did not stop to help the animal. It was limping on the side of the road."
The story took the Internet by storm when Athie's brother, Alejandro, tweeted photos of the wild coyote and saying:
"Today my sister picked up a COYOTE thinking it was a run-over dog and took it to the vet."
Por qué me quemas así!? Jaja te amo.
Pancho está muy bien, hoy comienza su tratamiento. Para todos los interesados pic.twitter.com/QkJfpeeRpU

— Andrea Athie (@andreathie) September 28, 2019
Andrea responded, jokingly: "Why did you burn me like that!? Haha, I love you." "For all who are interested," she added, "Pancho (the coyote) received the medical attention it needed and was in good condition."
Se verá por el bien de el, que tenga la mejor calidad de vida posible y que no sufra. Se está haciendo todo lo posible para que se recupere ☺️. Es un animal silvestre.

— Andrea Athie (@andreathie) September 28, 2019
The coyote, who she says was very friendly and never tried to attack her, would receive five days of intense treatment so that his hind legs could be healed.
"For his sake, he must have the best possible quality of life and isn't made to suffer. Every effort is being made to recover [him]. He is a wild animal. Pancho is not responding as we expected, everything is being done for him [but] he doesn't want to eat or cooperate to try to move after his treatments.

"I never thought my story would be so popular online. We want to return the coyote to its natural habitat but it is not responding to the treatment and we want its paws to fully heal. We are searching for alternatives. It is a wild animal out of its natural habitat and it appears to be depressed, but we are still trying to treat it."
Para seguir informando. Pancho no está respondiendo como esperamos, se está haciendo todo por el, no quiere comer ni coopera para tratar de moverse después de sus tratamientos.
Es un animal silvestre y por lo tanto al estar fuera de si hábitat se deprime pero seguimos tratando.

— Andrea Athie (@andreathie) September 29, 2019