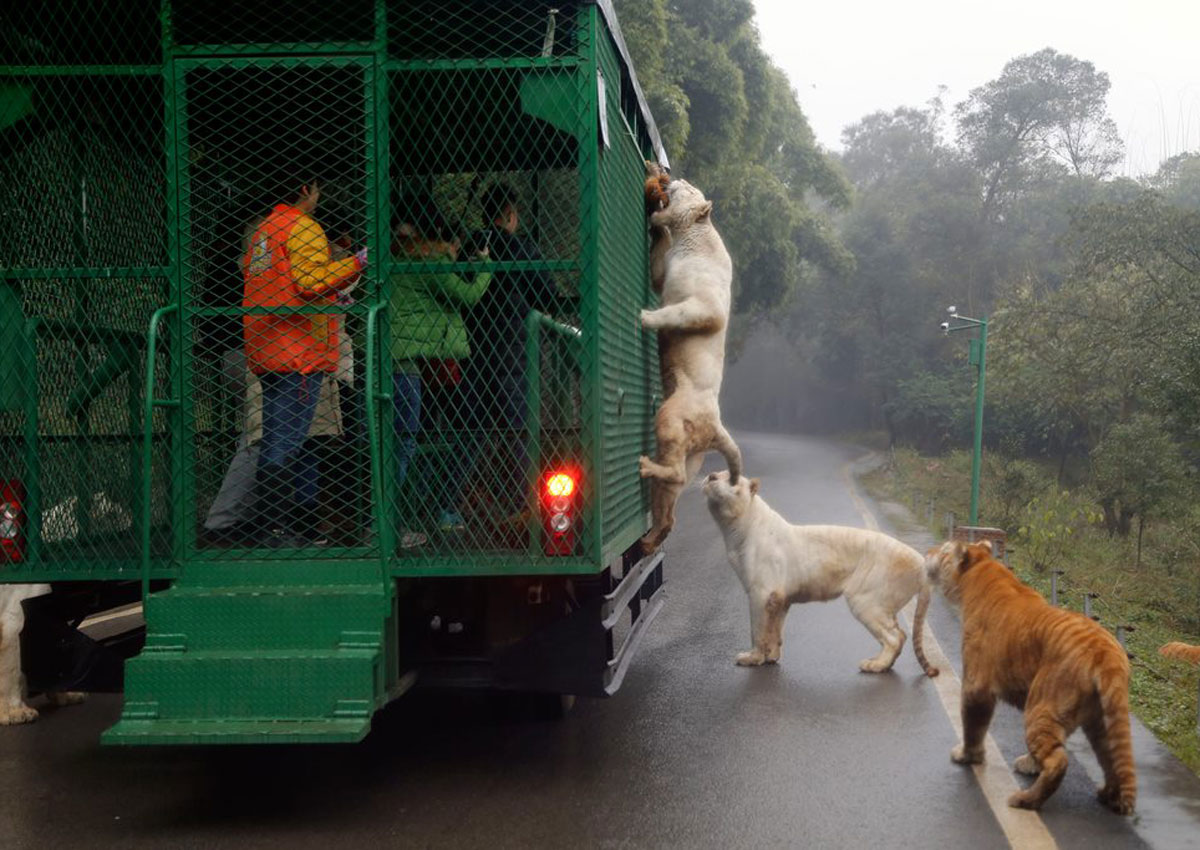 A lot of people see visiting a zoo as akin to animal cruelty. Watching animals in captivity can be disheartening, especially in the zoos where animals are obviously neglected. Although many of the caged animals are bred in captivity and are within breeding programs to expand their species' survival rates, wild creatures deserve to live in environments free from humiliation and distress.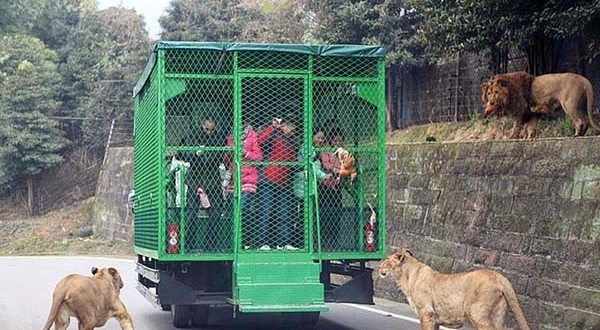 One Chinese zoo has discovered another way to draw in the crowds and allow more freedom for its wildlife. The Lehe Ledu Wildlife Zoo in Chongqing has reversed the caging system and now allows its visitors to view free-roaming animals from mobile caged vehicles.
The secured cars are driven through a section of the zoo's park where feline predators are attracted by meat and whole chickens attached to the outer side of the moving cages. Visitors get to experience firsthand the natural instincts of Bengal tigers, lions, and white tigers from these moving cages.
From within the cages, visitors have the opportunity to feed these exotic animals. Small openings allow the freedom and safety to get extremely up close and personal.
Chan Liang, a spokeswoman for the zoo, explained how they wanted to provide their visitors with an encounter they could experience with the large animals without any risk.
Despite the new move to cage people and not the animals, the zoo experienced a death prior to the new 'exhibit.' An eight year old girl snuck into an enclosure housing circus animals and was mauled by a tiger after she fell in front of a safety fence.
The child was rushed to hospital suffering extensive head and neck injuries and was pronounced dead on arrival.
Although it was unclear how the child got into the closed off area with two adults accompanying her, the zoo has since reached a compensation agreement. Security measures have increased since the attack, including the new exhibition where people remain locked behind a cage when in close contact with the big cats.
The circus performances have since continued according to schedule, the zoo reported.
Launched in December, the zoo reports the new tour as being a huge hit among the tourists.