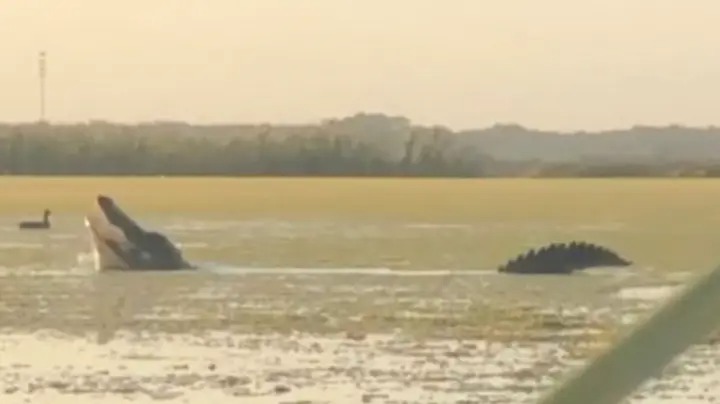 Scenes from Jurassic Park have been compared to footage of a monster alligator devouring its prey. Look below if you want to live out one of your worst nightmares.
Kevin Stipe and Cass Couey, the owners of the PRO HUNT navigation app, were out duck hunting in Florida when an enormous gator came along and ate their catch.
They were able to capture the massive reptile on camera, and given its size, it's easy to see why they weren't wading in there to fight for their prize.
The gator can be seen in the video gliding through the water before snapping up the bird… which was actually a sitting duck.
Stipe told Fox 35 News that the alligator was about 13 feet long and was snapping up and eating the ducks before they could get them out of the water.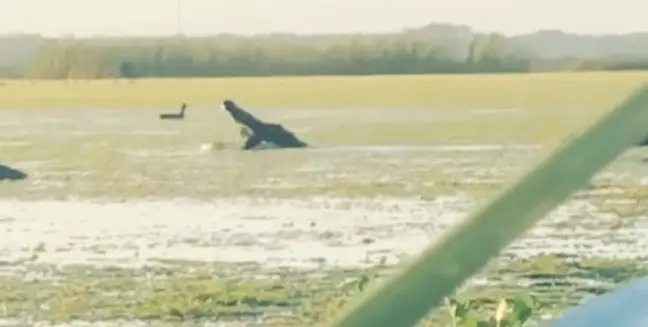 As the alligator swims up to one of the ducks and snatches it out of the water, the two hunters can be heard saying, 'Here we go, number two of the day,' in the video.
"OK, you're fed, now get out of here," the other hunter said, clearly fed up with having their catches nabbed.
The video was posted on Facebook in 2020 and received 1.5 million views.
One viewer commented on the video, saying, "The dinosaurs are making a comeback!"
"This monster is straight out of Jurassic Park," said another. This week, I was caught on camera in Leesburg!"
"I have lived in Florida all my life until five years ago and never saw one that big," wrote a third. But I'm sure they're out there! People, be cautious of your pets! "Be astute!"
Couey said the video's viral popularity was nothing out of the ordinary for him.
"It was just another day in the swamp," he explained. "But I'm glad people like it!"
A triathlete was lucky to survive after an alligator attacked him while swimming in Florida in August.
A drone captured the moment the 12-foot gator clamped its jaws around Juan Carlos La Verde's head as he was swimming off a dock on Lake Thonotosassa.
"I felt the equivalent of a telephone pole hit my face," the 34-year-old told WFLA.
"And then, as a result of my stroke, I felt the scales and then the teeth, so I knew what I was in."
For several seconds, his head was trapped in the gator's mouth, crushing part of his skull and breaking his jaw.
"It was just one big bite," he continued. "I heard my jaw snap and just kept swimming."
He made it to shore safely, and emergency services rushed him to the hospital, where he underwent six hours of surgery to reconstruct his skull.